Things to see in Florence: the Ospedale degli Innocenti and its museum!
Min. reading
Among the things to see in Florence, the Ospedale degli Innocenti is for sure in the top list, and it is located only 5 minutes away by foot from our hotel!
Its story is no doubt interesting, and its importance in the history of Florence is indeed peculiar and worth a few words about it.
It was the year 1445 when the construction of the Ospedale degli Innocenti ended, with a project that was born from the desire of a wealthy merchant of Prato, Francesco Datini, father of the modern bill of exchange.
Francesco's illegitimate daughter, Ginevra, at his death received quite a fortune, to be partly dedicated to the restructuring of the existing Santa Maria Nuova Hospital.
But things went differently, and Ginevra decided to use the money to fund the building of a new structure: the Ospedale degli Innocenti, idea of the Brunelleschi, after that the Cooperation of the Arte della Luna took charge of the work financing.
The peculiar thing about this hospital is the fact that it soon became the place to welcome abandoned children. The number of children born from the rich gentlemen of the period and their slaves was in fact out of control, and such a place was absolutely needed.
We talk about slaves because the city of Florence approved their import in 1364, only clause, they didn't have to be catholic. More than the usual economic benefit, this act was needed to give new lifeblood to the population, reduced of the 60% after the terrible Black Plague of 1348.
The smart thing about the idea, was that once arrived to the hospital, the kids were freed from their slave status, and became by law free individuals.
In the coming years, after its opening, the institution gathered around 150 children per year, fact that reveals interesting details about the composition of Florence's society, and about the behaviour of the wealthy Florentine gentlemen, easily seduced by the exotic beauty of these women, mostly from the Middle East.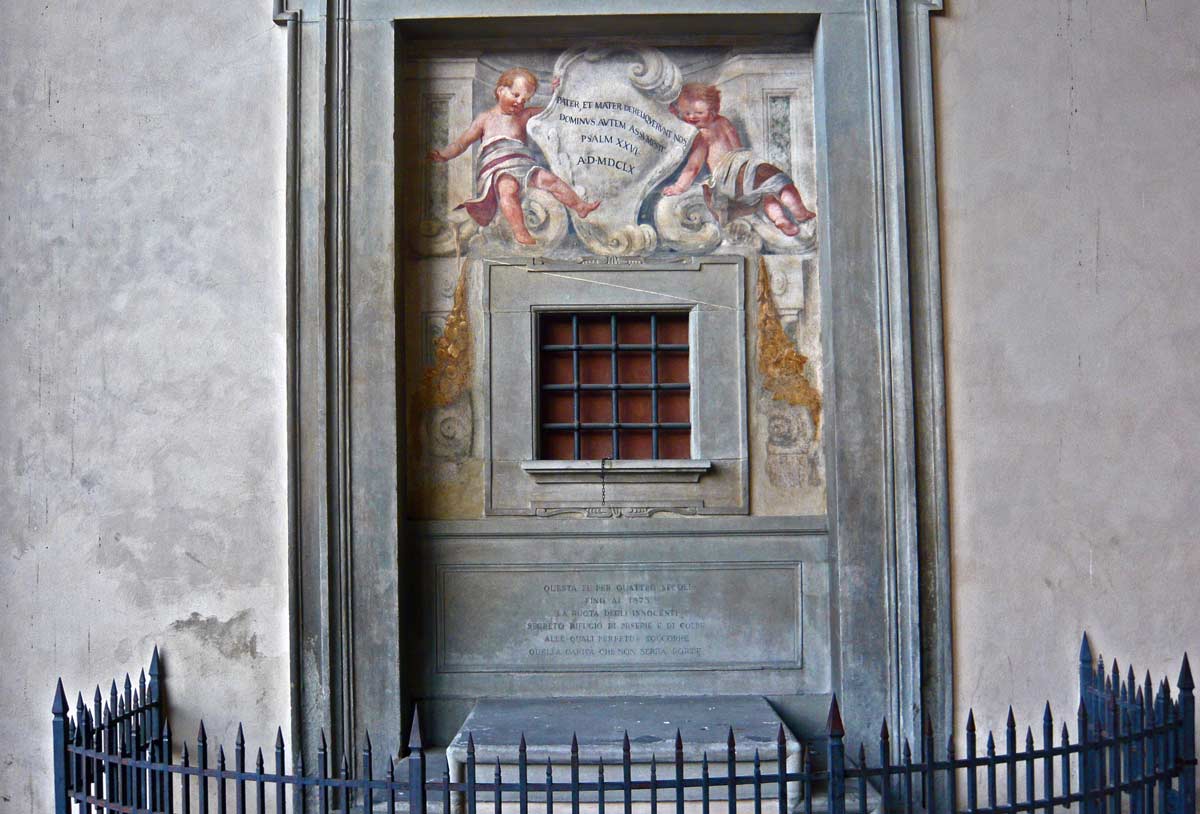 Today, walking by Via della Colonna, the street flanking the hospital, you can still see the wooden barrel ( The Innocent Wheel ), in the past gathering all the children and delivering them to the hospital, the "nocentini". Think of all the lives that crossed those doors, and how the city of Florence was like, someway cutting-edge on the theme of acceptance.
Also the museum of the hospital, rich of artworks (like Botticelli's) laboratories and expositions, is for sure a must see in Florence, as well as the building of the hospital itself, in pure Reinassance style. And if you visit the museum, don't forget to enjoy a break in the beautiful terrace of the Caffè Verone!
Florence is a sky full of stars, with all its attractions,
many of which are located in the neighbourhood
of our Hotel Il Guelfo Bianco!