Typical cocktails of Florence: the Negroni
Min. reading
Today is on scene one of the most typical cocktails of Florence, one of the most famous aperitifs in the world, officially entered in the habits of all the Italians: the Negroni!
From the typical intense dark orange color, with a strong and bitter taste, the Negroni is prepared mixing together in equal parts bitter, red vermouth and gin. Few easy ingredients to create a magic blend, fragrant and pungent.
It is an elegant cocktail, generally served in the low tumbler filled with ice, refreshed by a piece of orange.
A drink to be enjoyed before dinner, without exaggeration tho! In fact, due to its high alcohol level, the excessive consumption could make you get to dinner… quite exuberant!
The Negroni comes from a 100% Florentine story. It is said in fact, that at the beginning of the '20s, the count Camillo Negroni, fascinating cosmopolite, habitué of the aristocratic Caffè Casoni of Florence, coming back from one of his many trips to London, asked the barman Fosco Scarselli " a little bit of gin" in his usual Milano-Torino ( red vermouth with bitter Campari, lately called Americano). The count's "usual" soon became a fashionable aperitif, from the dry and unmistakable flavour.
But where can we go today to have a tasty Negroni in Florence?
The best person to ask it to, is surely Luca Picchi, famous barman at Caffè Rivoire in Piazza Della Signoria. Top expert in the world about Negroni, Luca is renowned for its variations of Negroni and his historic documentary book: Negroni cocktail. Una leggenda italiana ( Negroni cocktail, an italian legend).
Picchi's secret for a good Negroni? The method build on ice! Prepare your cocktail directly on ice, having beforehand refreshed glass and the preparation tools!
Talking about variations, to be named is the one called " Negroni Sbagliato", where gin is switched with brut sparkling wine, creating a sweeter and lovable drink.
Some excellence cocktails bar in the Oltrarno area, where to taste a delicious Negroni, are: the Golden View Open Bar, with a fanciful aperitif with breath-taking view, the Fusion Bar where you will find expert bartenders ready to give you the best tips on what to choose and to prepare you a cocktail with professionalism, mastery and expertise. Another place to have a break with a Negroni is located in Via Delle Caldaie, between Piazza Pitti and Santo Spirito, the restaurant Gurdulù, that hosts inside a beautiful cocktail counter.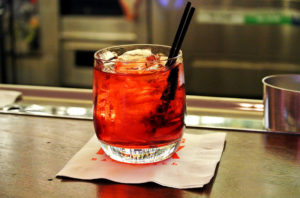 To be remembered that the basic price for a good quality Negroni is around 8-10 euros, so don't trust all those places selling it for less!
This said, if after a long day around Florence you are tired and prefer to stay in the hotel, but still fancy to enjoy some real Florence, – like the Negroni- you don't need to go far: there is Desco Bistrot!
At Hotel Il Guelfo Bianco it is all at hand, you just need to go down the stairs!
And if you feel a little bit hungry, you just have to book your table at the Desco  in order to enjoy a little bit of relax and end your day with a strong Negroni, without worrying about some extra drinks… To go back to your room there is a comfy elevator at your disposal!