Special rate: Easter holidays in Florence near the Duomo
Min. reading
Special Easter holidays in Florence: stay in a boutique hotel only few steps away from the Duomo square to look at the Scoppio del Carro ( explosion of the cart)
During Easter time Spring is in the air and you can breathe in the atmosphere of renewal and rebirth, as the city experiences a joyful excitement in its streets, squares, gardens and panoramic terraces.
The heart of the Florentine life in the Easter period is the Duomo di Santa Maria del Fiore, a few steps away from our hotel, where for 350 years, on Easter Sunday, the occasion is marked by an event that best represents the history and tradition of Florence: the explosion of the cart. "The Explosion of the Cart" is a folk tradition of Florence. Each Easter Sunday, a cart, packed with fireworks and other pyrotechnics is lit and provides an unforgettable spectacle in the civic life of the city.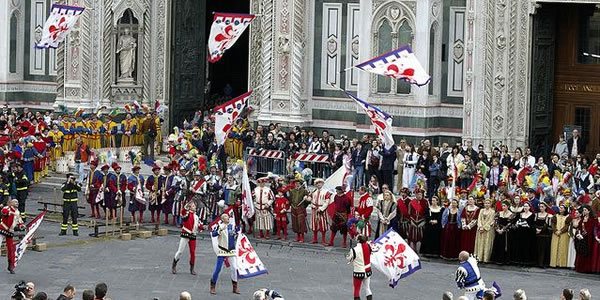 Today's ceremony is very close to those of the past and the rituals are unchanged: the historic procession with the antique costumes flows through the streets of the city with musicians, flag weavers and figures that represent the Florentine dominion, highlighted by the decorated float named the "Brindellone", forming towers two -three floors high , pulled by two oxen adorned with garlands, and the newly blessed fire that will ignite the fireworks placed in the wagon for a crackling and colourful fireworks display. All to the amazement and joyful participation of the audience gathered in Piazza del Duomo to witness the spectacle.
The explosion of the cart is definitely the most symbolic event of the Florentine Easter , but Florence at Easter presents many other inspirations and experiences: a jaunt in the Cascine Park, the green heart of Florence; a walk around the Rose Garden, just below the panoramic terrace of Piazzale Michelangelo , and a visit to discover the spectacular architecture of Palazzo Pitti with its romantic Boboli Gardens and finally an excursion on the Florentine hills walking or biking, for a healthy day after the delicious taste of the Tuscan cuisine with "crostini", "pappardelle", Florentine steak and the strong sweetness of the "schiacciata".
Take the advantage of the Easter holidays and reward yourself with a trip to Florence
to celebrate the rebirth of nature and mingle amongst the Florentines.
And don't forget to add joy and flavor
to your stay in Florence!
At Our restaurant Il Desco Bistrot
(celiacs and vegetarians are welcome!)