A REAL ART HOTEL IN THE CENTRE OF FLORENCE
Min. reading
Discover the collection of contemporary art that welcomes our Guests at our Art Hotel in Florence. We welcome you with both culture and beauty in our art hotel
They say hospitality is an art. As far as we are concerned, we believe that they call it an "art" because it puts together technique and talent, but also and maybe above all because it meets the human desire to connect with one another, to communicate with others. When, at the end of the eighties, we started creating the Hotel il Guelfo Bianco, we thought Renaissance Florence in all of her artistic and authentic value was easily available for visitors just outside of our doors and so we committed fully to assuring the continuity of beauty to those who came inside the walls of our hotel.
Far from the idea of covering the walls of the hotel with wallpaper, thus stifling the original 15th century walls of the palace, we decided to follow our passion to exhibit "art" in order to give a more intimate experience for our Guests.
When we opened, we used family paintings to decorate some of the communal areas, while in following years, thanks at first to Vincenzo Alibrandi and then later to his son Andrea, both owners of the art gallery Il Ponte in Florence, we started to create our own art collection to share with our Guests.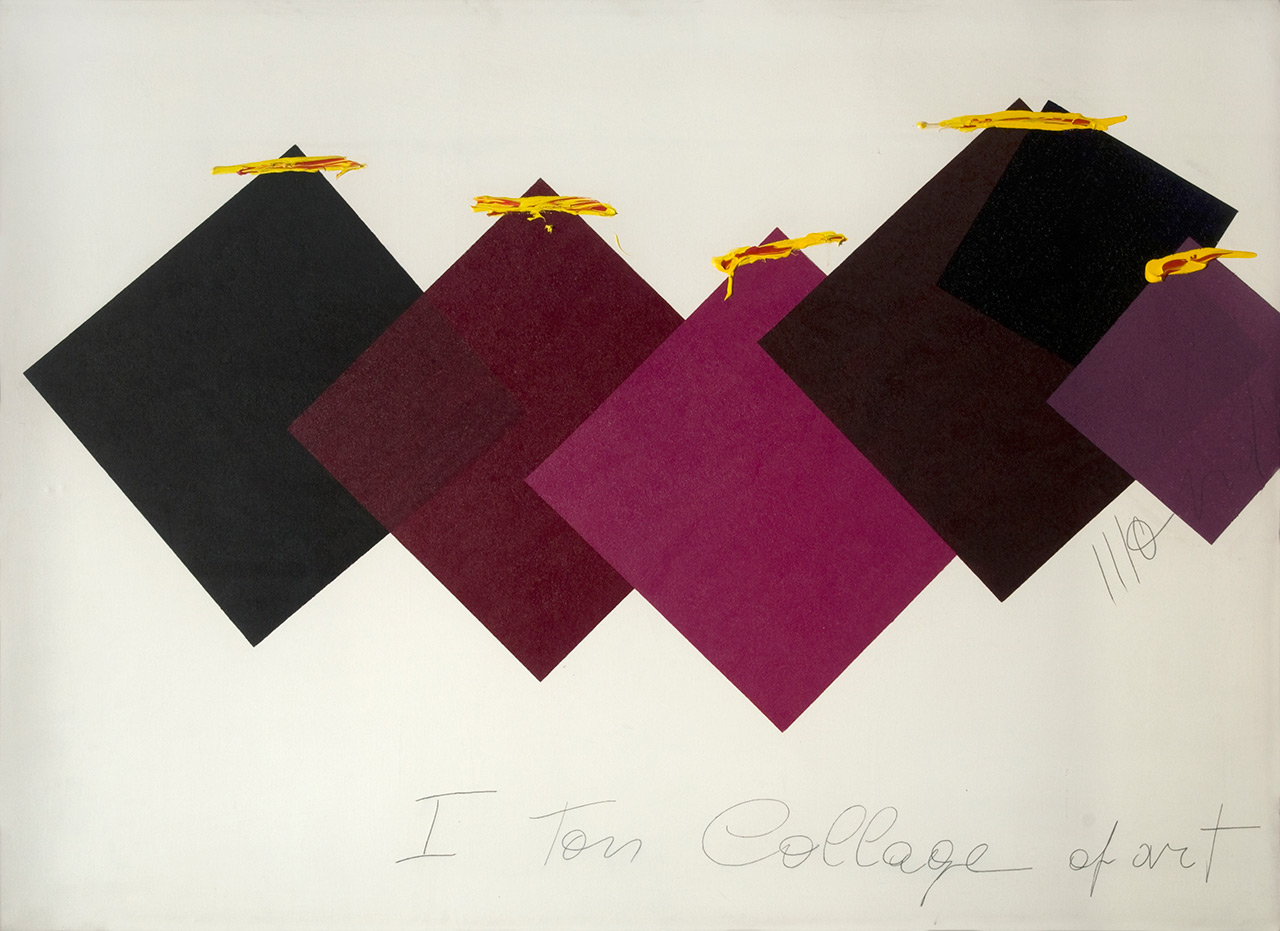 Aldo-Mondino – I Ton Collage of Art (1964)
Thanks to their precious expertise we became passionate about contemporary art. From the beginning we established two necessary rules : choosing only the works that the two of us would like and choosing only works that could conquer us for some intimate meaning that would produce a vibration in our emotions. It seems easy to say, but imagine a husband and a wife confronted with such a challenge!
Arturo Carmassi (1925-2015), painter and sculptor of international fame, was the creator of the first works of our collection. In the following years we continued choosing works specifically, selecting from among well-known artists but also from emerging contemporary artists that were undertaking a remarkable and personal artistic path.
Arturo-Carmassi – Composizione Arancio e Blu (1951)
We'd love to think that all of our Guests are able to choose their own favourite work of art during their stay, so that they can bring with them the memory of that emotion that enhanced their visit of Florence and their stay at the Hotel Il Guelfo Bianco.
Today our art hotel has become an authentic artistic journey starting from the very moment in which our Guests step in, along the halls and the corridors and inside the comfort of our rooms. We will continue to follow our passion by telling the story of every piece of art in our hotel, in order to make our Guests acquainted with the anecdotes and emotions behind each one of them and of the artists we had the honour of meeting personally and welcoming into our hotel.
And why not? We would also love to collect the stories of our Guests, who are able to share them with us at info@ilguelfobianco.it or on our social network pages!
Luisa e Alessandro Bargiacchi
"The world was not created once and for all but is created anew e
very time an original pair of eyes looks at it."
(Marcel Proust)